Gold Coast Cylinder Heads Services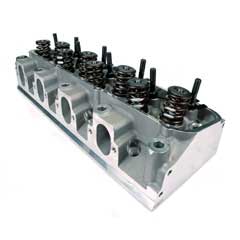 Some of the services Gold Coast Cylinder Heads are able to provide to our customers

Multiple angle valve seat grinding
We use a multi angle valve seat cutting machine, our machine cuts the width and depth of every valve seat identically, the resulting accuracy ensures optimum engine performance.

Surface grinding - milling
Our milling machine has various speed controls so we can grind different surface finishes to suit the different vehicle and gasket manufacturers' specifications.

Pressure & crack testing
We heat and pressure test the cylinder heads to many times the normal operating pressure and temperature, we then electro-magnetically crack test the head to make sure it has no leaks or cracks before we start any reconditioning work.

Head straightening
Destress the cylinder head to remove warping and return the head to it's original condition. Warping of cylinder heads is usually caused by overheating.

Valve seat inserting
Fitting or replacement of valve seats to suit Diesel, LPG and Unleaded vehicles

Acid & bead blast cleaning
Hot acid dipping and bead blasting are used to clean components to like new condition.